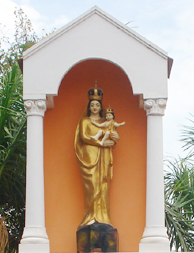 O God, Source of all knowledge, at this moment, may your infinite wisdom come down on us and make us wise and strong.
Bless our studies, which we dedicate to you.
Enlighten our minds and strengthen our memories.
May your light fill our mind and heart that we may see rightly, judge wisely and act effectively.
Make us open to the truth and be good to our parents, teachers and to the society.
May we always feel the presence of our Lady of Bonsecours in all our endeavors now and forever.
- Amen.
Bon Bon Bon Secours - 3
College for Women
Knowledge for everyone
Challenge for younger ones
Storage of compassion
It's our ambition
Blessed Mother Mary
You are our inspiration
Keep us all together
in happiness and peace
O Mary! You hold us and guide us all the way-2
O come let's join together
To read signs of the time
To learn and teach always with love
To make the world a better place - 2