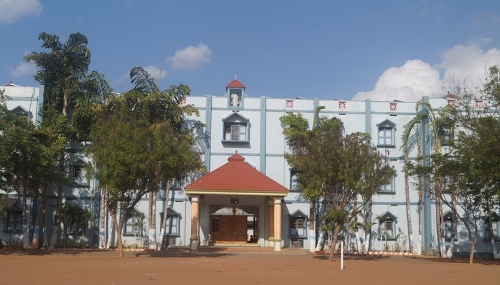 A well-managed hostel is sure to prove a blessing for those who are lucky enough to live in it.
Bon Secours Hostel provides the best atmosphere to study, relax, unwind and discover oneself constantly through interaction with peers and participating in the cultural, sports and community activities. It exposes several experiences to them.
Hostel is well equipped with all facilities. Hostel has 62 rooms (single, double beds ) and can accommodate 500 students. There is dining hall with modern kitchen facilities. Television room, Prayer Hall, Meeting Hall, Play Ground, Public address system and Garden are the other facilities provided in the hostel. Spacious rooms with windows give them a feeling of comfort.
Currently there are 468 students from different places and backgrounds and live as one family without any differences of caste and religion. It provides sufficient scope for interaction and relationship - building. This gives the new students full scope to know their seniors, learn from them, leverage their knowledge and build lasting relations with them. It is also a common sight to find study groups and project groups working away into the night in the hostel common rooms. These interactions play an especially important role in a student's life during placements and examinations.